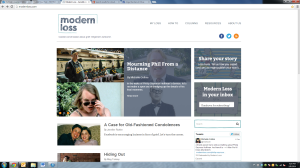 Sometimes it helps to talk about your grief. Other times reading stories from others about their grief provides comfort and hope. Still others want to write about their grief. This site, www.modernloss.com offer writing about all kinds of grief, offers advice in the form of how-to articles, and also has a section for sharing stories. Here is a link to essays on infant loss and others.
You can follow the site on twitter or sign up to get new entries sent directly to you mailbox.
If you would like to talk a support group might be a good option.
The HOPING Group is held the first and third Monday of every month at 7pm in the Barry D. Brown Health Education Center at the old Virtua Hospital (106 Carnie Boulevard, Voorhees, NJ). Check out the map for location and directions. No registration is necessary. If you have questions or need directions, call toll-free 1-888-Virtua-3 (1-888-847-8823).